The first large scale cultural event scheduled to take place in Jerusalem is the Jerusalem International Film Festival from August 20-30, 2020 – leading by example and creating new models for how to carry on with a rich cultural life during a pandemic.
The Festival will hold its film screenings at new and diverse venues, creating new collaborative partnerships with other institutions, sharing risk and opportunity for audience participation.  The Festival is working with the YMCA to remake their auditorium for film screenings and to use a space that can provide more seating to allow for distancing between audience members.  A plan is being developed with the Jerusalem Development Authority to use the Ben Hinnom Valley for outdoor events and the Film Festival hopes to be the first major event at this site.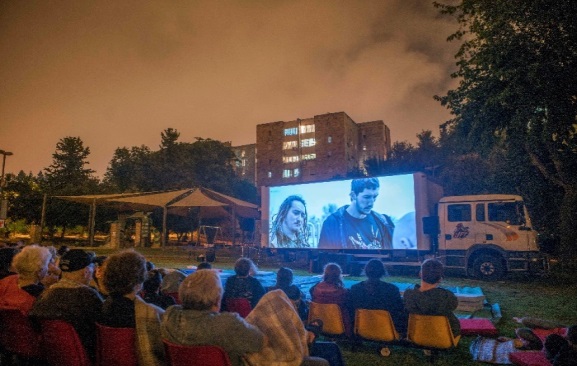 All participants in the Festival will adhere to Purple Badge regulations by wearing face masks and body temperature will be checked before entry to all venues.  Tickets will be ordered online and tracking of contact information for all visitors to the Festival will be kept for 20 days after their participation.  Signage at the Festival will be clear and understandable to maintain hygiene standards and there will be disinfection stations placed at venues.
Plans include bringing films into the neighborhoods with an expansion of the Film on the Go program in east and west Jerusalem for more outside screenings that allow for social distancing and also create an opportunity for placemaking and engagement with new audiences while creating partnerships with community center networks.
Since the international participants cannot join the Festival in person, due to COVID restrictions, each Director/Producer is recording a message of greeting to the filmgoers of the Festival with their thoughts during this strange and unusual time in the world and some insight into their films.  This is a small way that the Festival can keep connecting the international film world to Jerusalem.