Need: The Jerusalem Foundation strengthens the community support systems of Jerusalem, with a focus on the social and communal needs of the city's most vulnerable populations. The 22,000 Holocaust survivors living in Jerusalem represent one of the most vulnerable populations in the city, facing psychological, physical and financial challenges that require immediate and substantive solutions.
Response: The Café Europa network offers social and support opportunities for the city's Holocaust survivors. Each café serves as:
A meeting place where survivors can enjoy a social and cultural experience.
A resource center where trained professionals assist survivors in accessing and maximizing the rights and services to which the city's general elderly sector, and the survivor population in particular, are entitled.
A mobile "Café on Wheels" for homebound survivors provides computers, a library and visits by trained multi-lingual volunteers.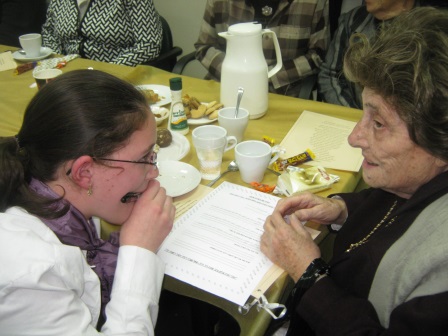 Population Served: Over 300 men and women attend Café Europa each week, with the program's five branches dispersed among the city's quadrants to enable easy accessibility for each area's target population:
The Rehavia branch serves the southern part of the city
The Pisgat Ze'ev branch in northern Jerusalem, also known as "Café Moscow," caters mostly to the Russian-immigrant population
The Beit Hakerem café services the western part of the city
The branches in the Geulah and Sanhedriya neighborhoods host the men and women, respectively, among the Haredi survivor community.
Another 80-100 survivors benefit weekly from the Homebound Services program.
Impact: "Café Europa is where I can socialize, hear a concert, or just read and relax, in the one place where I feel surrounded by those who truly understand me" (a participant).
Partners: Israeli Ministry for Welfare and Social Services; Jerusalem Municipality Elderly Welfare Department; Misgav Lakashish; local community centers; JDC.