The Museum for Islamic Art, founded in 1974, is the only one of its kind aiming to provide cultural education and shared learning opportunities for Israel's Jews and Arabs of all ages. As a dynamic educational and cultural center, it hosts tens of thousands of visitors every year. To improve its facilities as well as its reach and impact, the Jerusalem Foundation is supporting an extensive renovation plan that includes the establishment of a new Shared Learning Education Center. This will expand the museum's unique shared living educational and enrichment activities, bringing together more Jerusalem residents from different cultural and religious backgrounds. This will strengthen the city's social fabric, building communal strength for an open and vibrant city that looks forward to 2030 and beyond as envisioned by the Jerusalem Foundation.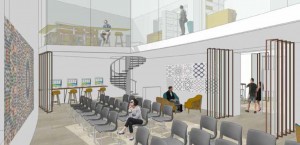 The educational programs based on the art developed in Muslim civilization expose students and teachers to the culture of 'the other': its language, norms, rituals and ceremonies. Central to the programs are the values of democracy, equality and freedom of expression versus incitement intending to advance tolerance and acceptance. The renovation will reimagine the interior and exterior of the building and establish an innovative center with over 2,000 books, computer stations and research equipment. The project also includes the addition of a classroom, an activity room and an early childhood activity room. The entrance hall will also be redesigned to host both the reception area and a café.
Impact: The new center will significantly enhance the capacity of the education department, enabling an estimated 50% increase in participants within a few years and accommodating a wider variety of programs for Jewish and Arab school children and teachers. The center will become a place for pioneering dialogue and shared living efforts by educators and NGOs in Jerusalem. Here they will be able to meet, be inspired and grow, just as the adults participating in the classes on Islamic art, culture and civilization.
Website: www.islamicart.co.il