Need: The ultra-Orthodox population in Israel comprises nearly a million people – 12% of Israel's population – and is rapidly growing. In Jerusalem alone, there are 110,000 students learning in ultra-Orthodox schools, which represents about two-thirds of all of the Jewish students in the city. This population has consciously separated itself from the rest of society and most children, especially boys, are not exposed to the core curriculum of general studies.
Today, STEM (science, technology, engineering, math) learning is considered a basic tool for success in the 21st century. Widening the culture of science among children and youth empowers them by equipping them with the skills needed for their future. Israel is advancing a national policy in STEM education, yet it has not been given voice in the Haredi school system, specifically among boys.
At the same time, science and technology is making its way into Haredi society, as long as it is connected to employment. The increasing poverty rate, the need to integrate into the workforce and earn a respectable living to support large families, and the increased drop out rates from Haredi schools all contribute to Haredi society's willingness to include STEM education in their schools, provided that it does not negatively impact their lifestyle.
The Jerusalem Foundation is committed to focusing on the social and educational needs of all of the city's residents. As part of our vision for 2030, we will support programs which will improve the level of STEM education for ultra-Orthodox boys, thus strengthening the social fabric of Jerusalem.
Response: More than a decade ago, the Jerusalem Foundation began to advance informal science and technology education among Haredi boys. Visits to various science institutions and after school activities were designed to expose children to STEM, circumventing Haredi resistance to secular education within the school system. Building on this experience, we now seek to delicately wade into STEM education among boys, exposing Haredi children (particularly boys) to the world of science and technology, both through formal and informal programming. After a one year search process, the Romema neighborhood, located in the center of Jerusalem, was selected to implement a pilot program. The program will develop independent thinking in science and technology; ensure problem based learning (PBL);  and cultivate an understanding on how to use the planets' natural resources in every way.
In the first two years, the Romema pilot will focus on three main axes:
Formal education within the Boys Elementary Schools (Talmud Torah): Improve the quality of mathematics, engineering and science that exist today in Talmud Torah system,within the regular school hours, leveraging current activities while upscaling them. This axis includes selecting the appropriate schools, mapping what is available today, training the teachers who can work together with pedagogical staff to upgrade the content, and offer in-school activities.
Community Based Activities: Informal education activities will take place in the local community center and will encompass work with families and girls, including but not limited to early childhood programming, community-wide events for the entire family, development of a center for innovation within the community center, and after school activities.
Infrastructure Building and Measurements of Success: Documenting the process, understanding which activities worked and which did not, developing criteria for success and ensuring that there is sufficient human capital and physical infrastructure to continue to develop the concept.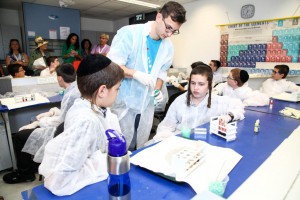 Partners: Funding and strategic partners include the Cleveland Jewish Federation, the Toronto Federation and the Jerusalem Municipality. The Bloomfield Science Museum in Jerusalem, a renowned expert in STEM informal education programming, will assist in building formal and informal pedagogical content. A steering committee consisting of the Jerusalem Foundation, the Jerusalem Municipality, and Rabbinical representatives of the Romema community center, will track the development of the project very closely and all stakeholders understand that the work plan will be very flexible and will be adjusted as needed based on the reactions of the community.
Impact:
Increased exposure of STEM among Haredi society, particularly boys
Detailed mapping of needs
Capacity building for teachers
Developing detailed measurements of long tem success
Evaluation: Social Finance Israel which will be creating a model for long term evaluation of this project.