18.10.2020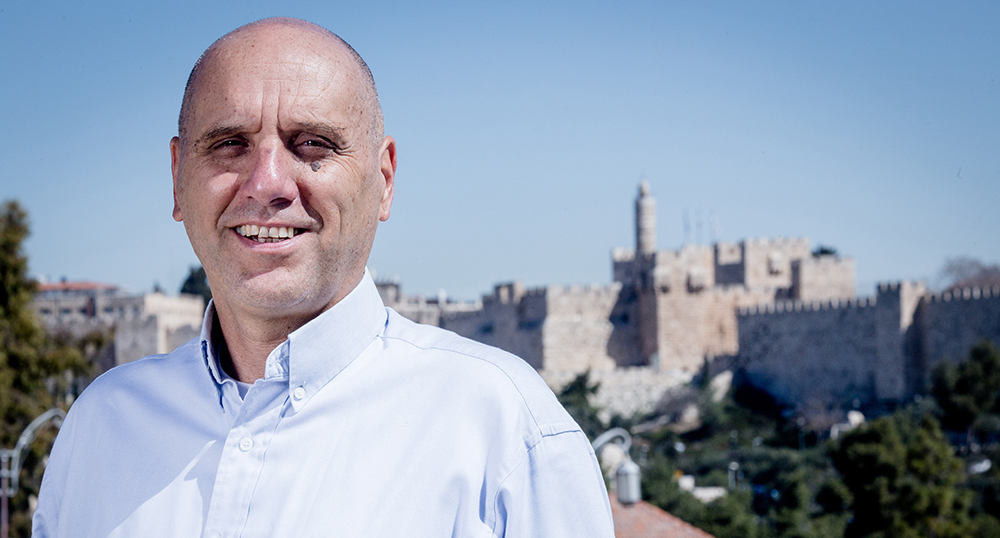 Dear Friends,
Jerusalem of these last weeks has been very different then anything we have known before.  As we mark Jerusalem Day, I want to share with you the inspiration I have felt from our beloved city through a few small stories of great initiatives over these past few weeks.
Embroidering Dreams 
Over the past few weeks, the distribution of food baskets to provide vital relief to Jerusalem's most vulnerable residents during the COVID-19 crisis has been one of the central tasks carried out through the Jerusalem Foundation's emergency fund.  This was not as simple as it sounds…easy to imagine but complicated to carry out – not only money is needed to purchase and assemble the food parcels, but also the logistics of thousands of volunteers needed to distribute them throughout Jerusalem – leading to the finest hour for volunteers from civil society organizations and the network of community center activists across Jerusalem.
'Embroidering Dreams' is a group of dozens of elderly men from the Ethiopian immigrant community who came together through the Talpiot Community Center; a group of men who brought with them to Israel skills in characteristic Ethiopian embroidery techniques used to decorate the community's traditional garments and textiles such as table cloths, napkins, pillows and even mezuzot. They seek to preserve the art and pass on its secrets to future generations. The COVID-19 crisis put a stop to their group activities until further notice and concern for members of the group continued to grow.
Two hundred families of elderly residents from the Ethiopian community had food baskets delivered to their homes by volunteers in the Jerusalem Foundation's first emergency round of food parcel distribution. When stricter home sheltering restrictions were put in place, we started the second allocation round, and this time we added an element of cultural competency to our distribution. For the city's Ethiopian community we adapted to their specific cultural needs.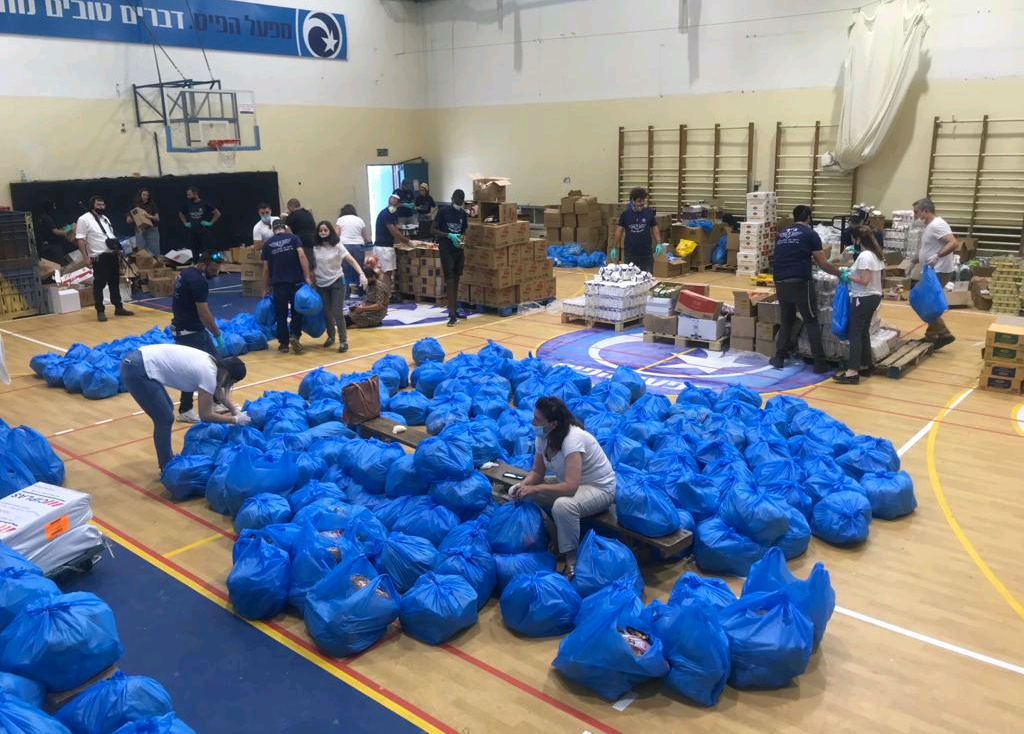 And that is how we found ourselves on a journey to the Ethiopian kitchen. Naturally, that includes teff flour (imported from Ethiopia), used for preparing Ethiopia's national dish, the spongy-textured sour fermented flatbread called injera. Also included were kek (Ethiopian broad beans), shiro (an Ethiopian stew made mainly of chickpea meal, special spices and green coffee beans, and all these items can only be found in Ethiopian-cuisine shops in the Machaneh Yehuda market and market merchants and volunteers helped prepare the special food packages.
The families of the elderly Ethiopian men who comprise 'Embroidering Dreams' were deeply touched by these special packages. One of the many moving thank-you letters we received in Amharic said "Thank you! I felt that this time, you really saw ME, and not just as part of a general problem."
Shalhevet and Ella 
Shalhevet and Ella are talented musicians, only 13 and 16 years old. They study and play music at the Hassadna Jerusalem Music Conservatory. Hassadna is one of the fine Jerusalem institutions that we at the Jerusalem Foundation are working to promote and for which we seek to build a new, permanent home as part of our long-term plan, 'Jerusalem 2030', which gives special emphasis to nurturing Creative Culture in Jerusalem. Shalhevet and Ella aren't just excelling music students, but also young initiators and leaders living in the city's Baka neighborhood. 
This year's Yom Ha'Atzmaut – Independence Day celebrations, was maybe the strangest of these anniversaries in our country's 72 years.  There were strict closure orders to prevent the spreading of COVID-19 confining everyone to within 100 meters from their homes – empty streets and no traffic. After more than a month of sheltering and home and social distancing, the absence of all the traditional festivities and large-scale gatherings took on new meaning and increased the longing for normalcy.
But Shalhevet and Ella insisted on not letting the solemn mood put a damper on festivities. We call it "Communal Strength": under strict health guidelines, the community would find a meaningful way to mark our nation's independence. 
A few days beforehand, together with the music teachers at Hassadna who also took an active part in the initiative, the girls formed groups of young musicians online, all residents of the neighborhood, and started rehearsing musical pieces suitable for the special day. Another neighbor, a young-at-heart 55- year old saxophonist, volunteered to serve as conductor. At the appointed hour, the poignant moment when the national Memorial Day for Israel's Fallen Soldiers ends and Independence Day begins, 10 young musicians met at the street corner, all within 100 meters from their homes. They brought their own chairs and musical instruments, sitting the required two meters apart. The street lamps lit their way. Around them, neighbors at home went out to their balconies and gardens, keeping their distance but curiously looking on. And then it started. Wonderful Israeli sounds, powerfully breaking through – without amplification, with just the power of the music, performed by the young musicians… the holiday atmosphere, the Communal Strength of mutual responsibility, and then the great, indescribable excitement that captured everyone's ears and hearts.
When the musicians performed Hatikva, Israel's national anthem, many of the neighbors had tears in their eyes and even the amateur video of the performance on an iPhone in the dark, was filmed with shaky hands.
A short Jerusalem story in these days of the coronavirus – one that symbolizes and demonstrates in a practical way what we hope to accomplish in Jerusalem in the years to come – Jerusalem 2030 – Communal Strength, Creative Culture and Future Leadership…
Muslala & The Day After 
After two months of supporting the immediate, basic needs of the city's most vulnerable residents from all sectors, at the Jerusalem Foundation we are starting to think about the day after… embarking on a new routine, a "corona routine" and the good days to follow.
Last week, we began supporting the very creative initiatives of cultural, art and civic society institutions, helping them get back on their feet, giving them initial "fuel" and "oxygen" to get back to activities in the new routine and one such extraordinary, creative initiative is Muslala. For those who don't know, Muslala is a community of creative Jerusalemites, a collective of artists, social activists, educators and project initiators. The center of activity for this community of young people is the rooftop of the Clal Center, a 15-story office tower and indoor shopping mall next-door to the Machaneh Yehuda market. 
Matan Israeli, the living spirit of Muslala, in his persuasive and inspiring way, managed to inspire us with his excitement – certainly with his optimistic view about the "day after"…. As Matan tells us, "Over the past weeks, we rediscovered the importance of the balcony and rooftop, our place to get a breath of fresh air, even in the most difficult days of closure. A place that's also for forming connections, a new, special culture of balconies and rooftops has occurred – and the rooftops in particular, with their enormous, untapped potential"
These days have forced us to find new ways and the new Muslala experience, already in the coming weeks: urban camping on Clal Center's green roof, with nothing but stars shining above. A new, stimulating, green urban experiment that suits Jerusalemites who will suddenly experience the city from completely new angles and certainly for those who have yet to join us, either up close or from afar… "It is an ascent to Jerusalem of the Heavens", says Matan enthusiastically. Camping that will involve one of the green sustainability initiatives atop the Clal Center building – the city's beehive – or some of the wonders of urban agriculture on the roof, and then a star-studded night and even an intimate breakfast, all atop the roof, and there you have it! Just so you can't say that you haven't heard something creative and optimistic coming out of the past few weeks' hardships…
On behalf of all of us at the Jerusalem Foundation, I want to wish you a happy Jerusalem Day. Recent times have shown us once more how special, how diverse our city is, what a strong civil society, mutual responsibility and a lot of hope and creativity can do for the future.
For us, every day is Jerusalem Day!
Shai Doron
Jerusalem Foundation President