05.07.2019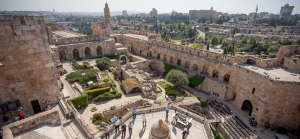 Dear Friends, 
We are pleased to share some of the unforgettable events and experiences coming to fruition in Jerusalem this summer.
New Building for the Hand in Hand School
Since we dedicated its campus in 2007, the Max Rayne Hand in Hand School for Bilingual Education in Jerusalem has built a unique educational community through shared living and learning. The school is now an established institution in Jerusalem – with 700 students, 9 graduating classes, exceptional academic achievements and with hundreds of families on waiting lists.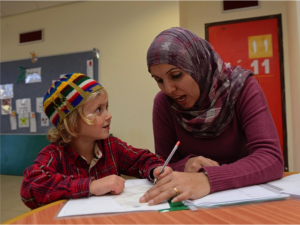 We are excited that a new high school building will be constructed over the next couple of years to allow the school to accept more students and continue nurturing shared society in Jerusalem.   
Click here to read more.
Orangutan Exhibit Dedication at Biblical Zoo
For many years, the Biblical Zoo has been one of Israel's most visited tourist attractions, and has been at the forefront of wildlife conservation in Israel and globally. The Tisch Family Zoological Gardens opened in 1993 on its current site in southern Jerusalem and draws people from all threads of Jerusalem's vibrant social fabric – Jewish, Christian and Muslim; secular and religious; young and old; and tourists and locals. Thus the Zoo has become a place where everyone comes together and feels welcome – a bridge between communities.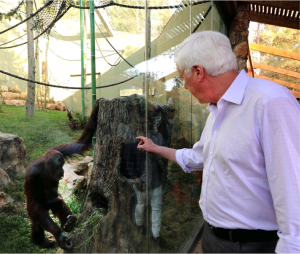 Exhibits such as these engage visitors' hearts and minds and are important to promote public awareness of conservation issues, and to participate in international breeding programs for endangered species.
Thanks to a generous donation by John Shapiro and Shonni Silverberg from the USA, an orangutan exhibit was recently built and had its official dedication last month. The exhibit includes spacious outdoor and indoor facilities, and the visitor path includes information and graphics about orangutans, the threats they face in the wild, and their conservation.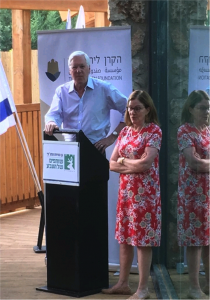 We're proud to be supporting the Biblical Zoo in their conservation work, and efforts to educate the public about biodiversity and conservation issues.
Nabucco Performed in Jerusalem
The world-famous opera Nabucco returned to what could be said to be its 'spiritual home', here in Jerusalem. On June 20th, the Israeli Opera Chorus and Jerusalem Symphony Orchestra performed Verdi's opera, known as the 'Jewish Opera' due to its portrayal of the destruction of the Temple in Jerusalem by Nabucco (Nebuchadnezzar), king of Babylon.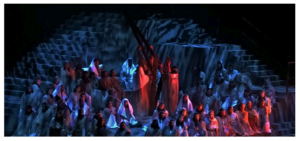 An audience of around 7,000 came to see the unique, and historic, performance in the Sultan's Pool, outside Jerusalem's Old City walls. Amongst them were hundreds of Holocaust survivors whose tickets we sponsored, and students whose discounted tickets we subsidized.
It was great to see music acting as a meeting point for Jerusalemites of different ages, religions and cultures, to come together and create shared society in Jerusalem.
Click here to read more.
Jerusalem Foundation at the Jerusalem Film Festival
We are delighted to be sponsoring a new award at the upcoming Jerusalem Film Festival. The Nechama Rivlin Award for a First-Time Filmmaker (courtesy of the Jerusalem Foundation) is named after Israel's late First Lady, Nechama Rivlin z"l, who recently passed away and who was a regular patron of the Jerusalem Film Festival and the Cinematheque.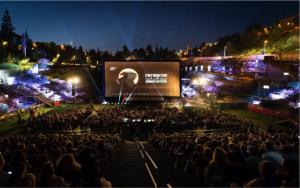 We are also sponsoring the prizes for Best International Film and an award in the Pitchpoint Contest, as well as continued support for the Haggiag Award for Best Feature Film and sponsorship of the 'Film on the Go' project taking place around Jerusalem.
As part of the Film Festival, "Film On the Go" offers a mobile movie theater that travels throughout the city and is set up every evening in one of Jerusalem's neighborhoods – in east and west Jerusalem (films screened in east Jerusalem with Arabic subtitles). The Festival provides two branded trucks carrying a mobile movie theater and folding chairs (along with a DCP projector, sound equipment, generators, operation, etc.), festive lighting and folding seats.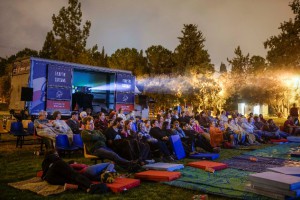 Every day, the mobile movie theater arrives in a different neighborhood and carries out nighttime activities in collaboration with local community centers, providing food stalls and arts & crafts sales alongside the screening of films. The project reaches all members of Jerusalem's diverse communities – including those who do not generally frequent the Cinematheque – by offering activities free of charge and providing access to artistic excellence to all viewers, regardless of their age, background, religious affiliation or language.
Click here to read a Jerusalem Post article about the new award and here to read more about the Jerusalem Film Festival. 
Warm wishes from Jerusalem for a wonderful summer season!