22.06.2019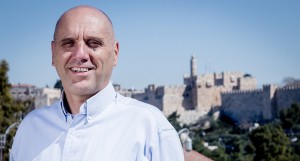 Jerusalem-ite Day
I am happy to share with you a "special edition" of Stories from Jerusalem – in honor of Jerusalem Day that we just celebrated on Sunday.
I don't believe that it would have crossed the minds of those who initiated Jerusalem Day that one day, at least for some, it would become a political statement, used by one political camp or another, rather than emphasizing the city's unity, strength and uniqueness.
In my view, the true essence of our holiday, Jerusalem Day, is a celebration of the city's beauty and uniqueness, its diversity and its capacity to create connections and be a center of culture and ingenuity – a source of inspiration to Israel and people around the world.   
In Jerusalem, year round and particularly on Jerusalem Day, I seek to celebrate creativity and excellence, the love of other human beings whoever they may be, human diversity, openness to all; a city with a degree of modesty and, with all its complexities, optimism for a better future and a sense of humor also wouldn't do any harm…
In recent years, we at the Jerusalem Foundation have joined together with a growing number of Jerusalemites, a coalition of people who are working to turn Jerusalem into a more tolerant place, who wish to mark our day – as "A Jerusalemite Day of Diversity", through a series of events that have nothing to do with politics, seeking to multiply the good in our city and embrace all the segments of our city's diverse population.  
On Jerusalem Day, the Jerusalem Intercultural Center, established and supported by the Jerusalem Foundation, conducted a series of events and encounters that shine light on an open Jerusalem, accepting of all, of "the other", of the majority and the minority, of Jews, Moslems and people of all faiths from secular to ultra-Orthodox – all taking part in "A Jerusalemite Day of Diversity", because we have no other city.
Thus, for example, Dror High School youth had a discussion with the father of Shira Banki of blessed memory, a teen who was killed for participating in the Jerusalem March for Pride and Tolerance, followed by discussion groups with organizations promoting tolerance; an evening of interfaith prayer with a rabbi, a priest and an imam; an encounter bringing together Jerusalemites for short talks at light railway stops; even a Jerusalem Speakers' Corner featuring people standing on buckets and telling different Jerusalem stories, inspired by London's Hyde Park designated to public speaking, debate and open discussion; and the list goes on.
There was also the Jerusalem March in the Milton Way Bike Path circling the city a few hours before the conclusion of Jerusalem Day events. I can't be certain that the Gottesman family of New York, whose generous support helped establish the park, had precisely this sort of thing in mind, but yesterday's Jerusalem March represents the Jerusalem I believe in.
Adults and children of different backgrounds, carrying balloons, riding bicycles, playing music, pushing baby carts and walking their dogs, paraded along the old train tracks in a festive march of solidarity, celebration and hope. Dozens of Jewish and Arab families, religious and non-religious, came from all parts of the city to walk together and highlight the beautiful, colorful and diverse human mosaic of Jerusalem; a shared existence that doesn't need air-conditioned halls and armchairs and doesn't wait for a special invitation, rather comes from life itself, life all along the train tracks that connect Jerusalem's different communities. It is no surprise that all these neighborhoods have residents who just want to walk or jog, breathe in the fresh air or relax on a shaded park bench, and yesterday they paraded along the train tracks to the First Station.
This is the true Jerusalem March. Perhaps you won't see, hear or read about it, but this is a march of Jerusalemites who want what's best for everyone living here, and carry a message of hope and optimism for Jerusalem.
As part of the vision of the Jerusalem Foundation for the coming decade, we seek to continue the metropolitan park in the north of the city – one that will connect more people and communities of all kinds. We've already started dreaming of the park's new route and maybe in just a few years, with the help of those who know Jerusalem's true heart, we, the people of this magnificent city will have another space to share and to celebrate the commonalities and differences among us.
Shai Doron
Jerusalem Foundation President