03.20.2023
Yael Berman-Domov, the CEO of Tene Yerushalmi and one of its founders, was chosen as this year's prize winner of the Jerusalem Young Leadership Prize, a new prize established by The Maimonides Fund and The Jerusalem Foundation.
The prize will be awarded for the first time this year, as a recognition of social entrepreneurs who are inspirations and role models in their work contributing to the strengthening of the city of Jerusalem and the well-being of its residents.
The Jerusalem Young Leadership Prize is awarded to leaders from civil society (under age 50) who are active in non-profit organizations, that play a significant role in strengthening the city of Jerusalem, the development of the community and the wellbeing of the residents. The prize of 100,000 dollars is awarded to the organization which the winner is a part of, and will be used to advance and develop the activities of the organization. More than 100 applications were submitted to the selection committee. The proposals presented groundbreaking initiatives that work to strengthen society in all its diversity and make a significant contribution to the residents of Jerusalem.
After a rigorous selection process by the jury, Yael Berman-Domov, CEO and founder of Tene Yerushalmi was selected as the winner of the prize. Berman-Domov has dedicated many years to diverse social action, and heads the organization which leads unique programs to strengthen the city of Jerusalem by attracting and keeping young men and women in the city, as well as shaping active, committed and influential community leadership.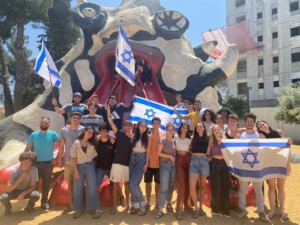 The organization leads democratic and pluralistic programs designed for teens and young adults including: a pre-military preparatory course, a combined beit midrash, programs for university students and community building.
The organization has had many achievements in its 13 years of operation: 500 graduates of the Jerusalem Mechina and Tene Yerushalmi programs, 70% of whom work in the public and social sectors, and many have chosen to live in Jerusalem.