Double Impact is a program to incentivize exceptional young people to live in Jerusalem following their army service and use their talents to develop excellence in the city while they study at university. Double Impact is a framework where young adults from across Israel can receive scholarship support for their academic studies and participate in leadership development training, in return for their leading social and community initiatives in Jerusalem's underprivileged neighborhoods. The double impact consists of assistance to needy Jerusalem residents alongside training of highly motivated young leaders committed to living, volunteering and working in Jerusalem. Double Impact is a key element in the Jerusalem Foundation's 2030 plan for Future Leadership, developing a network of activists and volunteers working for the betterment of the city for all its residents.
Each cohort is a small group of young adult activists from throughout Israel, alumni of Tene Yerushalmi programs (a pre-army mechina training program), recently released IDF soldiers and current university students. Once a cohort is established, they develop a workplan and infrastructure for their initiatives. They cooperate with the local community center in formulation of this workplan including mapping the needs of the community, assessing potential impact, considering the skill sets of the activists and reviewing suitable partners for activities.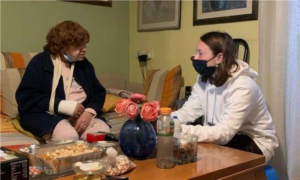 The integration of these activists within the community center is what defines the unique character of its program and its success. On the one hand, the activists give to the communities by initiating, growing and improving activities at community centers while on the other hand receiving tools, support, and empowerment from the community centers' professionals. Alongside their university studies, the activists launch several meaningful projects together with their community center counterparts.
Throughout the year, Double Impact participants take part in a number of in-depth study sessions and tours. Subjects include: postmodern educational challenges; the ultra-Orthodox world and higher education; community care for women undergoing divorce; place making in East Jerusalem; the Jewish-Arab mix in Israeli cities and more.
Thanks to the scholarships for academic studies in Jerusalem, engaged and motivated young adults are making long-term commitments to Jerusalem, its residents and their needs. Many of them stay in the city and will become its next civil leaders. The ripple effect of this Jerusalem Foundation Future Leadership program is increasing hope and access to opportunities in vulnerable communities throughout Jerusalem.
The Jerusalem Foundation seeks donations of USD $10,000-$50,000 to enable the continued support and expansion of the Double Impact program.