Jerusalem is home to 23,000 Haredi (ultra-Orthodox) seniors, nearly half of whom (10,000) are Holocaust survivors. In line with our vision for 2030, we are focusing on strengthening the community support systems to provide for the needs of Jerusalem's ultra-Orthodox seniors, one of the city's most vulnerable populations. We aim to ensure equality of opportunity for this population sector to grow old at home, in dignity and security, with sustained support for them and their caregivers.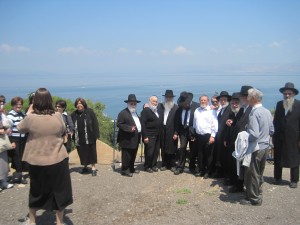 The Jerusalem Foundation, together with the Misgav Lakashish organization, seek to establish the first elderly day center in Jerusalem that is specifically adapted to the needs of the Haredi population. The 2,000-square-metre facility will include a Social and Treatment Center for the Physically Frail (1,100 m2), as well as a separate Social and Treatment Center for the Mentally Frail (one center for men, one center for women, 940 m2 in total area). Programs will meet the standards of the Israel Ministry of Labor, Social Affairs and Social Services, which will support the ongoing operation, and scrupulous adherence to Haredi cultural norms such as gender separation (Separate services will be offered for women and men, and will take place on separate floors) and strictly kosher food. It will be located in the Romema neighborhood, a centrally-located Haredi neighborhood.
The Centers will operate from 8:00 – 15:00, and afterward the facility will host a range of social and educational services for more independent seniors. The morning day centers will include:
Medical Services and information for illness prevention and promotion of good health
Large Activity Halls (90 m2) hosting creative programming by and for the Haredi community as well as space for breakfast and lunch to be served
Treatment rooms (30 – 35 m2)for occupational and physical therapy
Activity rooms (20 – 30 m2) for arts and crafts and other activities
Computer room (20 m2)for computer based activities to improve cognitive processes (only in center for the physically frail)
Areas for rest and showering, as well as a hair salon and medical pedicurist.
Transportation to and from the Centers, and laundry services
Beit Midrash center for Jewish learning.
For independent seniors, the afternoon-evening activities will include:
Social club
Enrichment program – art, drawing, jewelry making, etc.
Support groups for Holocaust survivors, widows, caregiving spouses, etc.
Employment Center – onsite work opportunities (a call center), as well as retraining courses and job placement services
The Day Center "College" – a center for continuing education and study.
Population Served: Physically frail, mentally frail and independent Haredi seniors.
Partners: Ministry of Labor, Social Affairs and Social Services, National Insurance Institute, Jerusalem Municipality, JDC-Israel, Foundation for Holocaust Survivors