The Jerusalem Foundation is committed to leveraging the city's diversity and unique history to shape its future as a modern, thriving metropolis and an inspiration around the world. We celebrate Jerusalem's rich history and help create opportunities for residents of diverse backgrounds, particularly youth, to learn about the city's significance through the ages.
Central to this endeavor is the Tower of David Museum, which contains archeological finds dating back over 2,800 years. Each year, the museum brings Jerusalem's history to life for more than 300,000 people from Israel and abroad, offering innovative exhibits tracing history from ancient through modern times, and examining Jerusalem's centrality to diverse peoples and religions.
In 2000, archeologists working on the Kishle structure – erected in 1834, and later used by the British to imprison members of the pre-state Jewish underground – stumbled upon layers of remains chronicling Jerusalem's expansive history. This included evidence of Jewish life in the Crusader period; important finds from the Second Temple period; part of the First Temple-period city walls; and beneath the entire structure, a tunnel that served as a drainage duct for Herod's Pool, and as an escape route for the priests and their families when the city was destroyed by the Romans.
In one of the most important initiatives in the field of archeological sites in Jerusalem to date, the Kishle will be transformed into a world-class visitor site, with a cutting-edge archeological center. Visitors will follow a linear route exploring the mysteries of the Kishle excavations and the remains of the palace, the walls, the tunnels and the people behind them. The complex will house an interactive 45-minute multimedia experience, alongside a new, two-story entrance and exhibition gallery building with two rooftop observation decks, as well as space for lectures and events.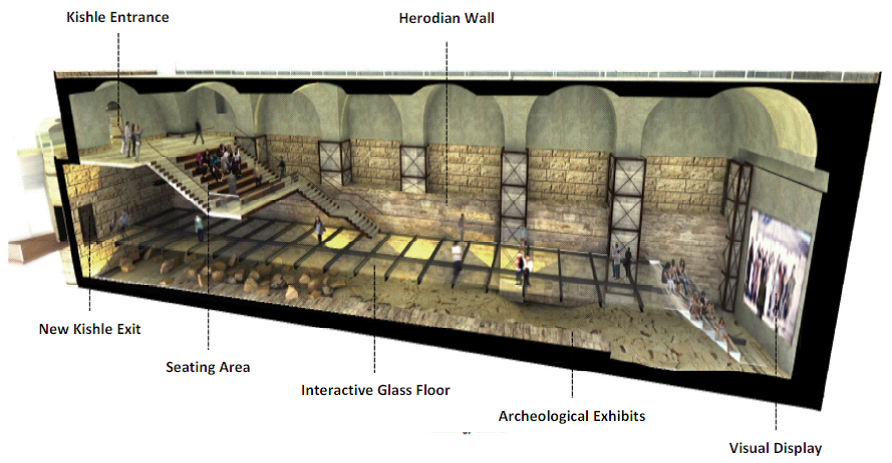 Impact: The 450 sq. m. (4,850 sq. ft.) space unearthed will serve as an important archeological site for visitors from around the world, with the center split into two levels: a multimedia archeological center displaying archeological findings on one floor and a gallery on the upper level for changing exhibitions and other cultural activities. The renewed and expanded Kishle complex will attract hundreds of thousands of tourists from around the world, and enable the Museum to significantly expand educational and cultural programs and reach out to larger and more varied audiences. This is a priority heritage project for the State of Israel and is a designated landmark tourist attraction.
Partners: The Ministry of Jerusalem Affairs, the National Heritage Site Fund of the Prime Minister's Office, the Ministry of Tourism and the Jerusalem Municipality