04.11.2019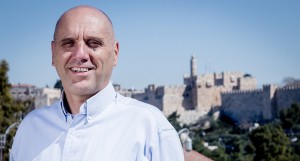 A Strange Night Journey
Lovers of Jerusalem span continents, nationalities and religions.
My last trip to Holland was a journey to a well-known place. But it turns out that even when you think you already know everything, there are new things to be discovered.
Haig Balian is a good friend of mine. He is a Dutchman of Armenian origin, a man of the world, a believer in Europe and a keen admirer of the European Union. Haig had a successful career in the field of film and film production and then changed his focus to the public sphere. In recent years, he has become famous for the creation of "Micropia", the world's first "microbial zoo" museum. Now he is building a new nature museum in Amsterdam. Haig has seen a thing or two in his life…
But for Jerusalem, Haig also makes an effort. At midday he came to fetch me from Schipol Airport near Amsterdam and became my chauffeur for a busy day. From the airport we drove to Nijkerk, a small town about an hour's drive from Amsterdam. On the outskirts of the town, we found – a large and impressive Israeli flag proudly welcoming visitors – the "Israel Center".
The Israel Center is the activity headquarters of the organization Christians for Israel. We met there with the organization's Board of Directors. The Jerusalem Foundation and Christians for Israel have deep ties that go back for many years but, as the new President of the Jerusalem Foundation (I wonder how long I can use the term "new President"…) I wanted to introduce myself personally.
The conversation went on for an hour in the middle of the day and I felt an incredible warm atmosphere in the room which stood in stark contrast to the weather outside – freezing cold and snowy, a rare thing in the Netherlands these days. An hour later we were on our way back to Amsterdam, but that was not the end of the journey… At 8 pm, Haig drove me back to … Nijkerk. The organization's Board of Directors had asked me to return in the evening to a gathering of their members from the local community. At eight in the evening, with everything around us white and silent, Haig and I were wondering who in their right mind would leave the comfort of their home – especially to hear me speak on such a cold winter night But two hundred people – young and old – showed up to meet the new President of the Jerusalem Foundation! Not only was I expected to talk about Jerusalem, but I also ended up discussing Biblical animals. The invitation explicitly stated that the engagement would last 45 minutes – I was finally allowed to leave after two hours and then only because Haig protested that the road to Amsterdam might be closed due to snow.
Haig says that such an event has not been seen in Holland for a long time: on a frozen winter night, two hundred people enthralled by stories about Jerusalem and Persian fallow deer, Griffon vultures, Asian lions and other Biblical animals.
Just before midnight we arrived at Haig's new home in Amsterdam. One thing I know: we have good friends in the Netherlands – Christians for Israel and a Dutch "chauffeur" of Armenian origin, completely secular.
And from this fascinating journey, it emerged that in the coming year our Dutch friends from Christians for Israel will also support the "Building Community" program in Kiryat Hayovel and special activities for young adults and new immigrants at the Canada House Community Center.
A Classic Story
Music can be very moving, even for the greatest cynics. I must admit that in recent months I have been moved a lot. Those of you who know me know what excites me, and classical music performed by the best musicians in the world is not necessarily one of those things. Nevertheless, what has moved me recently?  Frequent visits to the Hasadna Music Conservatory.
Two guests who accompanied me on different visits tried to hide the tears induced by the musical performances of the children and youth of Hasadna.
More than 600 children and teenagers find their way to the Adam School in the German Colony every afternoon – the temporary residence of Hasadna. When you enter the building, you are enveloped by a kind of musical "cacophony" – from every room and from every corner there are sounds: piano, violin, brass instruments, chamber music, jazz ensembles, young orchestras, and more.
As always, one of the wonderful stories of the place catches up with you: Avraham Tirpa – an outstanding musician now in the Israel Defense Forces, and a graduate of Hasadna is also studying for his bachelor's degree at the Jerusalem Academy of Music and Dance.
Avraham was a student of Michael Geisler, one of the teachers at Hasadna, which is why the musical level here is nothing less than excellent. Avraham was "discovered" by Hasadna when he was 7 years old and studied at the Zalman Aran School as part of a special program for students of Ethiopian descent – a project of the Jerusalem Foundation. The professional eye – and ear – of the team could not miss a rare talent like Avraham.
The program allows every child who wishes to learn to play music, to receive musical instruments and personal assistance, and, if necessary, a scholarship. With perseverance and professional guidance – but mainly with rare talent and high motivation – Avraham became one of the leading violin players in Israel. He has been invited to play on various stages in the world and also played as a soloist (!) with the Israel Philharmonic Orchestra.
Those who walk in the corridors of Hasadna in the afternoon will easily recognize the next Avraham: students who leave one stunned by their virtuoso abilities to produce wonderful renditions of classical works.
And there is more: the atmosphere in the place is like a home and a family. Children and teenagers gather there not only to play and study music but because it is a meeting place that embraces everyone and is proud of the social diversity of its students. And that's great!
I was sceptical when they took me there for the first time when I took office several months ago. "Another conservatory," I told myself. Since then I constantly look for a good excuse to visit and be moved again.
In the Jerusalem Foundation's Action Plan – "Jerusalem 2030 – A City With Soul" the development of culture, opportunities for all and young leadership are priorities for Jerusalem and Hasadna represents all of this and more.  A permanent home for the Hasadna Conservatory is an important step forward in our plan for the future of the city. Avraham Tirpa, like many graduates, will return to be part of building the next generation of musical excellence in Jerusalem.
Brightly Blooming Spring in Jerusalem 
Spring this year has bloomed in full force. The heavy and late rains have helped transform Jerusalem into a green landscape, certainly in the open areas and in particular in the Gazelle Valley Urban Wildlife Park. The park's natural water system works exceptionally well. The pools of water scattered in the valley have filled and we are seeing an amazing flowering and richness of biodiversity. The upcoming Passover holiday will mark four years since the opening of Gazelle Valley Urban Wildlife Park, and it seems like it has been there forever. Hundreds of thousands of butterflies passed through the country this year adding much color to the park, and three new gazelle fawns were born here recently. There is eager anticipation for several more fawns which would be the peak of a glorious Spring season here in Jerusalem.
You may be forgiven for thinking that I am always out and about but I do actually spend a lot of time in the office, and sometimes at the drawing board with a planning team that is working on the new education center for Gazelle Valley. This education center will be fully integrated into the surrounding environment. It will enable varied educational activities such as an observation center for the many visitors who come to experience the unique opportunity to be close to wildlife in the heart of Jerusalem.
Together with our partners, JNF USA, we have mobilized the means to establish the education center and construction work will begin in the coming months. The Passover holiday is an ideal time to visit, and we invite you to just relax and enjoy the urban – nature of Jerusalem.
Passover wishes to you all – Chag Pesach Sameach!
Shai Doron
Jerusalem Foundation President