04.13.2022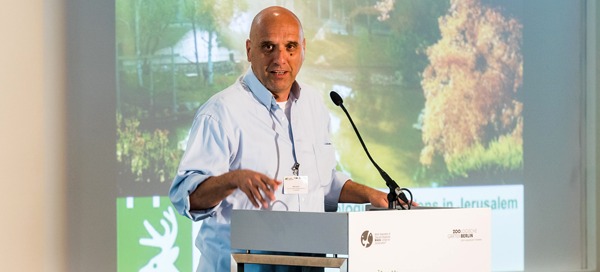 Dear Friends,
Spring is in full bloom in Jerusalem. Spring always augurs hope and, at this time, hope is so very important.
And what is my role? I tell stories. A 'giant' story is unfolding as I write; yesterday, the Jerusalem Foundation gave the directive to commence construction on the first ever community sports and swimming center in east Jerusalem, in Beit Hanina. Yes, actions speak louder than words and our hopes, plans and prayers are really coming to fruition in this Jack, Joseph and Morton Mandel Sports Center. This really is a story of gigantic proportions.
Yet, the Jerusalem reality is composed of a mosaic of miniature stories, each one offering a glimpse into Jerusalem's diverse communities.
Today I want to share with you a story about a story.
A Story of A Story
During the past year, a youthful spirit has been sweeping across the Jerusalem Foundation's premises. Young people with boundless energy and good humor whose 'big ears' are their microphones and recording devices. They are called podcasters and they are on a mission: to tell stories to promote greater awareness of the wealth and complexity of modern Israeli society. They are "The Israel Story" – the world's most widespread and successful podcast about Israel.
In June 2021, we invited the talented creators and producers of the Israel Story to join the Jerusalem Foundation family and to establish their headquarters in the social hub adjacent to my office on the third floor of our building.
Here, in the heart of Jerusalem, these vibrant, creative, gifted young people work hard and tell stories about Israel and about Israelis, unique, intricate and heartwarming stories that reach millions of listeners across the globe in more than 190 countries.
This young innovative Jerusalemite team is led by Mishy Harman. Mishy – a Jerusalemite by birth and by choice – is distinguished by his mane of curly hair and by his conviction that genuine dialogue based on mutual understanding is the optimal way to ensure a better future for and in Jerusalem.
The Israel Story promotes a greater awareness of others and mutual understanding through storytelling, and they tell excellent human-interest stories. Listen, for example, to the chapter on the day they spent in Jerusalem's YMCA, from dawn till dusk, "A Day at the Y". They tell us how one of Jerusalem's primary communal centers, in one of Jerusalem's landmark buildings, rebuilt its exemplary diverse community: a real microcosm of Jerusalem's own mosaic.
Last year, the Jerusalem Foundation, with our new partners, the Israel Story, gave birth to the Jerusalem Story – storytelling conducted on the move in live evening sessions across Jerusalem. With Jerusalem – and its residents – stories waiting to be told, the Jerusalem Story has become the ultimate platform for sharing these stories.
Here and now, voices rise up from the first floor of the Jerusalem Foundation's building, voices of the new, innovative recording studio of the Israel Story. Their voices will help turn Jerusalem – Israel's capital – into Israel's storytelling capital. Their recording studio will serve social organizations across the city and enable them to record their own podcasts with professional guidance. The Jerusalem Foundation's fund established by the Israel Group to support creative social ventures by young people for young people – in Jerusalem and for Jerusalem – supported this venture. Our Innovation Fund for Culture and Community also provided support with creating an app for recording and tagging stories in various locations across the city. The Jerusalem Foundation is trailblazing the way for turning Jerusalem into a story shared with everyone and about everyone.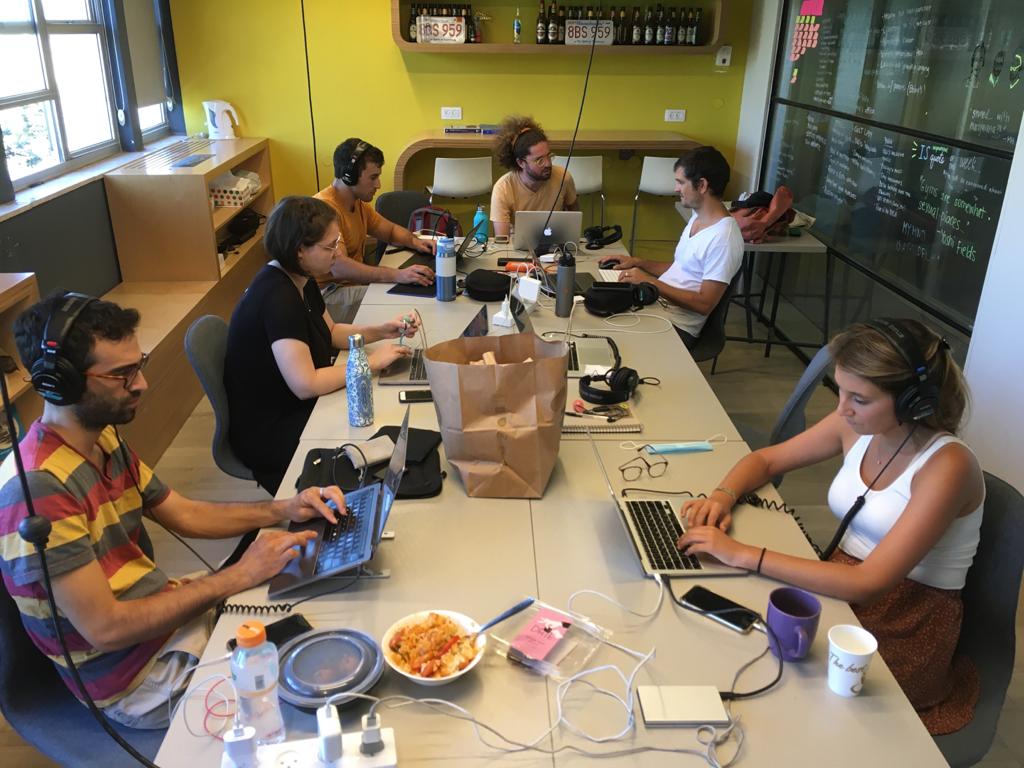 A Story of Hope
Talking about hope, I want to share a story about an even younger group of Jerusalemites, who are equally as inspiring, lively and creative. This is a story about a group of Grade 5 girls, pupils of the Reishit state-religious elementary school in the Kiryat Menachem neighborhood. As residents of Kiryat Menachem – which has a diverse population that we call it the 'Jerusalem Mix' – this diverse group of girls includes those from the Ethiopian community. So, the last thing you would expect this group to do is to play… soccer. Yet only we are limited by such prejudices these girls are unencumbered by such pre-conceived notions and are a symbol of hope and optimism.
Over the past year, the Jerusalem Foundation has been spearheading the "Sport as a Tool" program to promote Communal Strength and Shared Living, thanks to the support of our friends from all over the world. With our partner, the Equalizer organization, this program promotes soccer training, community building, schoolwork help, and familiarization with other communities, Jews and Arabs.
Last week an all-girls' soccer tournament with teams from all over Jerusalem took place. The Kiryat Menachem team – with our support and proudly bearing Jerusalem Foundation soccer shirts – took to the pitch with huge excitement.
Here, the plot in our story has a twist. You may be expecting me to tell you that 'our' team won the tournament. They did not. The Kiryat Menachem girls were knocked out in the qualifying rounds. They were beaten by a group of Arab girls from Abu Ghosh. Did they despair? Not at all. On the contrary, their meeting these girls from a different background and a different location at the outset of the tournament caused them to want more, to improve their sport, to practice further and to boost their team's social and physical aspects.
They may not win in the next tournament either but these girls are committed to achieving more and reaching higher rounds of the tournament. Soccer – yes, soccer too – can play a significant part in community empowerment and shared living, in motivating the young to aim for the stars and to be proud of simply taking part too.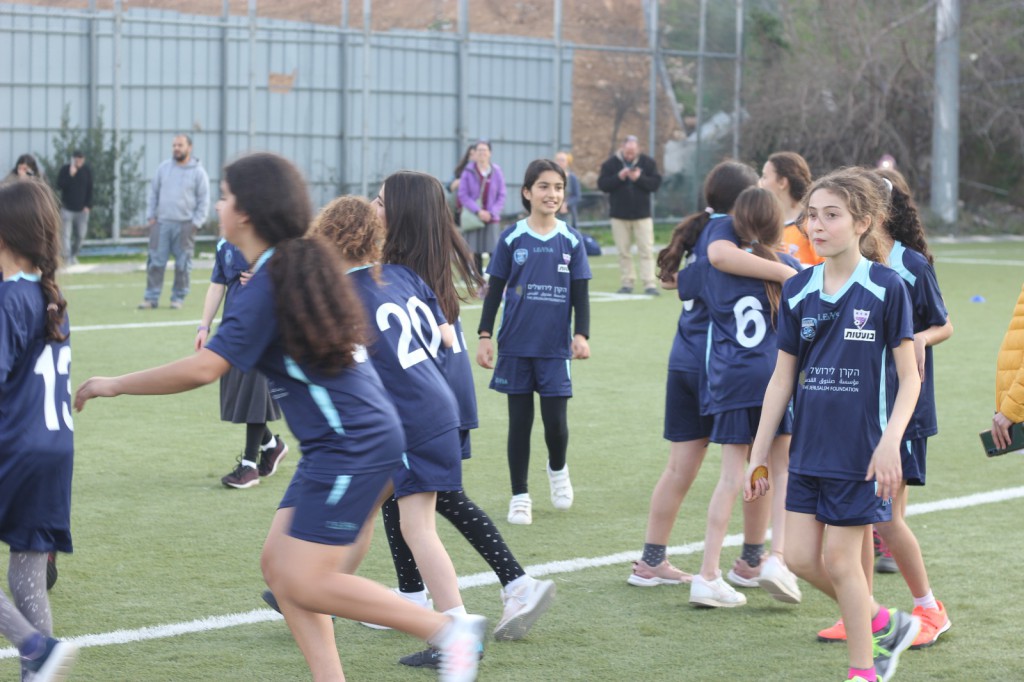 The spring is in full bloom in Jerusalem. So, despite the challenges and difficulties we face, where flowers bloom, so does hope. Hope for tranquility, hope for quiet and hope for success.
With Passover and Easter just a few days away, and with Ramadan already in full swing, I want to wish you all Chag Sameach/Happy Holidays/Ramadan Kareem.
Shai Doron
Jerusalem Foundation President