01.8.2023
Just As Important
The last weeks of 2022 have been truly festive, filled with ceremonies, events and openings of projects. We have worked very hard to make this happen, and we are proud of reaching the finishing line and having the opportunity to share this feeling with you. The newly renovated Morton L. Mandel Plaza, adjacent to the historic windmill in Yemin Moshe, is undoubtedly a breathtaking spot within the beauty of Jerusalem. Hundreds of thousands of visitors will be able to enjoy this Plaza, now fully accessible, with its magnificent view over the Old City and the eastern slopes surrounding Jerusalem.
We were thrilled to inaugurate the new entrance plaza to Hebrew Union College at the Taube Family campus, together with many visitors who came especially from the USA. The Jerusalem Foundation has led and completed this long-awaited project which forms another layer in the overall plan for this campus developed by renowned architect Moshe Safdie.
If these were not enough, I will mention another jewel in the crown of Jerusalem's beauty, the Sir Charles Clore Hill Gardens in the Valley of the Cross, which we renovated and upgraded, thus fulfilling a dream of many years. This project took us back to the historic days of the Jerusalem Foundation, way back to the seventies. Now the Gardens – a hidden gem – have been revealed to all – with benches overlooking the view, lovely walking paths and proper lighting, and they can be enjoyed by local residents, all Jerusalemites and everyone visiting the city.
During these hectic weeks, we also joined in the festivities celebrating the establishment of the new arts complex in the center of Jerusalem – the Jerusalem Arts Campus – which is now home to the premiere arts colleges in the city. We were also delighted to take part in the opening of the impressive new campus of the Bezalel Academy of Arts and Design just across the road from Canada House.
Yet, among all these ceremonies, distinguished inaugurations and sparkling events, three projects of the Jerusalem Foundation also unfolded that have no less impact. Sometimes we need to shine the spotlight on projects that are just as important. They may not receive the honor and glory of projects housed in impressive edifices, but what takes place behind their modest walls has enormous significance for all of Jerusalem's diverse communities. For the Jerusalem Foundation, they are a source of great pride.
One such 'modest' project is the youth club in the neighborhood of Kiryat Menachem, which was renovated and refurbished through the generosity of the Ottolenghi family from Italy in memory of their father, Emilio. The youth club, which serves as a warm home for dozens of teenagers from Kiryat Menachem, has undergone a real transformation thanks to this renovation. You can see the difference as the teenagers are 'voting with their feet' and attending their club every afternoon. A snooker table, sofas, a rug, a well-equipped kitchen and an arts and crafts room all help the teens feel like they have somewhere to go that is theirs.  When the Ottolenghi family visited the newly re-opened Club, one of the girls just said, "this is my second home and now it is so enjoyable to come here as it feels like we are coming home".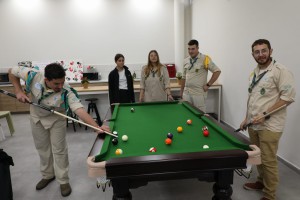 photo: Sasson Tiram
This new youth club will also enable expansion of programs for its teenagers, particularly in developing their leadership skills and honing their commitment to their neighborhood and to Jerusalem.  Roi Triblisi, the Director for Youth Development in the neighborhood, told us a story about a young boy who started coming to the youth club and very slowly over time, with gentle and careful encouragement, came more and more often, finding a place where he was seen and appreciated.  Today he has become a counsellor for other youth that frequent the club.
Another inauguration which might have been missed amidst the many ceremonies was that of the Polinsky Vocational Training Center for Young People at Risk and with Special Needs. This unique project works according to a special training and educational model which does not exist anywhere else in Israel. The Center is currently functioning as a pilot and, if it succeeds, it will make a huge difference to young adults and teenagers with special needs or at risk who currently have nowhere to go and nothing to do when they leave high school and go out into the world.
The Polinsky Center is comprised of three floors with designated learning areas that allow the young people to gain professional training. With a qualification certificate, they will be able to join the workforce and become more integrated into general society. The training college aligned with the Polinsky Center offers courses in cooking and culinary skills, hairdressing and hair-styling, make-up and manicures, mending telephones, and kindergarten assistants. The youngsters with learning and behavioral difficulties who attend courses at the college (ages 16-21) know that the new Polinsky Center will enable them to acquire a profession and their self-empowerment is so very meaningful.
"What moved me the most was seeing the parents who came to register their children for this training college," said the principal of the Polinsky Center, Yael Avital. "It is very painful for an elderly parent to know that their adult child with special needs will not be able to fend for himself/herself and earn a living. Now, as soon as the special education system finishes, young adults with learning and behavioral difficulties simply sit at home, with nothing to do. Through this project, we are giving their parents hope that their (adult) children will be able to integrate into society and to earn a living through their own skills and resources. From my point of view, this achievement is worth everything – all our hard work."
The third such project was the renovation of a kindergarten and its playground in the Kiryat Yovel neighborhood, thanks to a donation by Daniel Müller and his friends from Germany, who visit Jerusalem every year and renovate a different kindergarten. To date, over 50 kindergartens have been renovated and upgraded thanks to their decades-long dedication and support. It would seem that this is 'just another kindergarten' but this donation provided a completely new kindergarten for children with special needs. In this super-new space, they are receiving dedicated, specialized care and treatment from educational and therapeutic staff in much improved physical conditions, which they so greatly need and deserve.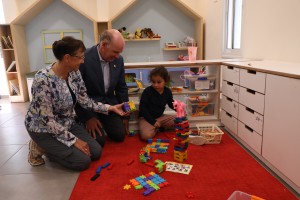 photo: Sasson Tiram
Strengthening and sustaining Jerusalem and its communities while providing equal opportunities to all, remains the core of our activities and goals. Projects like the youth club and the training center may not be in the limelight or appear in the news but projects like this are the guarantee, the promise, that our efforts will make a difference – as I said above, through just important things – and are what is truly making Jerusalem a better city.
So, in this spirit of optimism, I wish all of us a happy and healthy New Year!