05.21.2023
Inspiring Leadership – That Is The Story
Israel's 75th Independence Day has already been and gone and Jerusalem Day is around the corner. At the interface of these two so very Israeli milestones and current events, many of us feel compelled to think about the future.
The mounting tension in public, the political disagreements and the ensuing social divisions have all raised questions about Israel's social cohesion regarding fundamental principles on the future of the country. Many share the feeling – especially at these times and irrespective of political viewpoints – that there is a vacuum in true leadership right now. Trustworthy, courageous, attentive leadership that creates and upholds a moral agenda for the future. Leadership that is prepared to lead meaningful change and not only to answer immediate needs for the short-term or to placate the 'base' as we say in Israel.
Therefore, I want to dedicate this special edition of Stories from Jerusalem to the subject of leadership.
Nurturing young dynamic leaders and true leadership is one of the central pillars of the Jerusalem Foundation.
Young leadership of Jerusalem's civil society – dedicated to the city; committed to highly professional and authentic enterprises that embrace the city's diversity, communal strength and cultural wealth; striving for shared living to reduce gaps between communities and give equal opportunities to all – this stands at the core of our values and activities.
The Jerusalem Foundation is at the vanguard in leading some of the most impactful future leadership programs across Jerusalem. These include, at one end, the George Pinto Young Leadership Program for Doctoral Students and, at the other end, the pre-army-service Year of Meaning of the Hesed Youth Patrol where youth from underprivileged neighborhoods become social activists. There are many more such inspirational young leadership programs like these.
Our leadership programs also cover specific spheres for professional young leadership, such as training young people from East Jerusalem as social workers to treat their own community and nurturing young leadership to take responsibility for the community sports center currently being constructed in Beit Hanina.
These leadership programs align perfectly with the Jerusalem Young Leadership Prize, a new partnership between the Maimonides Fund and the Jerusalem Foundation. The winner of this prize – awarded for the first time – was Yael Berman-Domov, the CEO and founder of Tene Yerushalmi which has been operating in Jerusalem for over 10 years. Tene Yerushalmi runs communities activities for young adults as well as the Mechina Yerushalmit leadership gap year. Many of its hundreds of graduates have chosen to live and study in Jerusalem. Yael was chosen through a rigorous jury process from among more than 100 candidates, all worthy young applicants. The Jerusalem Young Leadership Prize process displayed an impressive mosaic of the fabulous and idealistic forces who are working to strengthen and contribute towards the city's diversity.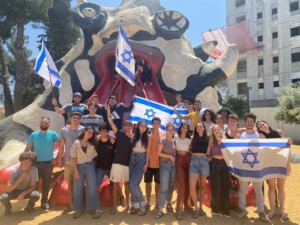 The prize ceremony was a magical evening and everyone present felt – like me – that we were witnessing one of Jerusalem's 'finest hours'. An impressive gallery of young leaders, activists, donors and supporters – all equally committed to the city and its future – attended the ceremony. I want to share selected words from the ceremony, starting with some of the moving speech by Yael Berman-Domov, winner of the Jerusalem Young Leadership Prize.
"Tene Yerushalmi has become a home for good people and for good deeds, a magnet where everyone fits in, and fertile ground for everyone who wants to rejuvenate the most wonderful city in the world. We specialize in creating dialogue and collaborations based upon broad consensus. In particular during these times, with fierce public conflict about ideologies and identity, the role we have to play in Israeli society is even clearer – to repair society's schisms, to firmly implement liberal and democratic values, and to continue motivating people to do good.
Active in Jerusalem for many years, we work in the belief that this city is the fount of the most important social enterprises and the wellspring for solutions to the trickiest social issues. We've already proved that changes evolving here in this city on a small-scale expand across Israel to large-scale impact. We are active in Jerusalem because it is our home and our very essence, it enriches our personal lives, it inspires our communal efforts and it propels us to action through its existential energies and restlessness. This is Jerusalem's unique character and charm.
Over the next few years, our goals will be to launch and support more social initiatives; to open new programs to enhance the city; and to welcome young people to the city and empower them to live here."
I would like to conclude with my own words from the same ceremony. "Leadership is the entire story! The past days, weeks and months have been the best demonstration of that. And the leadership programs and success stories that we have led and discovered during the past days, weeks and months bring us optimism and hope. Wonderful young leadership is taking the reins and leading Jerusalem to a much better future."
In these days of tensions, conflict and uncertainty about the way forwards, I am particularly pleased to share these beautiful words and to grasp their optimistic spirit and hopefulness that came from Jerusalem just in the past month.
Happy Jerusalem Day to everyone in the city.
Shai Doron
Jerusalem Foundation President
photo credit: Chen Wagshall