One city, 882,700 residents. Jews, Muslims and Christians; secular and religious. A mosaic of languages, cultures, and belief systems. The complexity of Jerusalem presents a special challenge and the Jerusalem Foundation is ensuring that Jerusalem's diverse residents can build a modern, open and vibrant city together. Key to this endeavor is creating shared public spaces that bring people together, enhance the quality of life for key populations, and strengthen the social fabric of the city. Building new community sports, fitness and swimming centers will fill a need for the social and communal needs of a key population – residents of east Jerusalem – in line with our vision for 2030.
Community centers and swimming centers are important hubs of social and community life. The value of community sports centers extends beyond sports and recreation, playing an important role in bringing communities together, social and cultural impact, reducing crime and antisocial behavior, increasing community capacity, developing leadership and encouraging civic participation.
For this reason, there are already at least fifteen swimming centers open to the public throughout Jerusalem and additional swimming and sports centers are being planned for communities across the city. However, all of the existing public swimming pools in Jerusalem are in Jewish neighborhoods; this makes them less easily accessible to most east Jerusalem residents. The Jerusalem Foundation views the establishment of such centers in east Jerusalem as a high priority in the coming years.
The Jerusalem Foundation intends to establish two community sports, fitness and swimming centers to serve east Jerusalem. The first will be in the northern east Jerusalem community of Beit Hanina, where the center is already in the planning stages, and the second we hope to build in the southern east Jerusalem community of Sur Baher.
Location: The designated site of east Jerusalem's first-ever center of its kind is in Beit Hanina, a large neighborhood in northern east Jerusalem, about 8 kilometers (5 miles) north of Jerusalem's city center, stretching over about 1,500 acres and home to over 35,000 Arab residents. Nearly 90% are Muslims, 10% are Christians and the community is young, with more than half of all residents below age 25 years. The Beit Hanina Community Center, established in 1985, provides social, educational, cultural, health and welfare programs to a combined population of 55,000 area residents who currently lack swimming and sports facilities. The community benefits from an impressive, strong and committed local leadership who are willing to take responsibility for the needs of civic society in their community.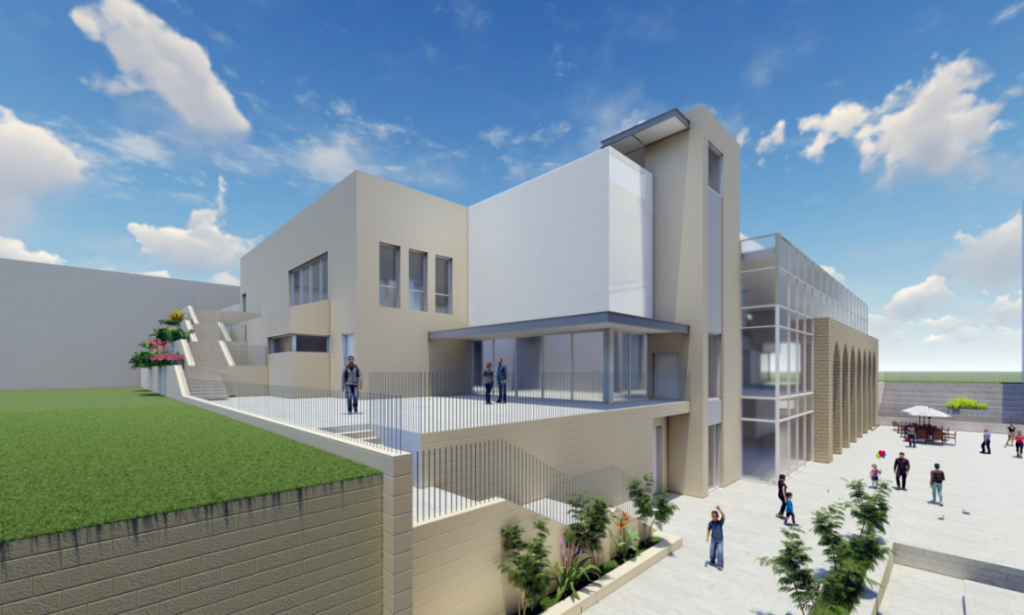 Highly accessible and adjacent to the Jerusalem Light Railway, the ambitious, state-of-the-art, 3,600 sq. m. (38,750 sq. ft.) complex will, at the first stage, contain a fully equipped indoor community sports, fitness and swimming center. Among the facilities that are planned for a later stage, adjacent to the complex, are a sports hall, sports courts, an activity center for youth and the elderly, an office building with income-generating commercial space and plenty of parking spaces.
The complex was designed according to Israel's latest green and sustainable construction standards as a modern building with references to local architectural motifs by the leading Israeli firm Galpaz Architecture & Engineering Ltd.
The second neighborhood, Sur Baher, is located in the southern part of Jerusalem and is at a low socio-economic level. Sur Baher has existing infrastructure, such as a community center and a number of schools, that can work together with the new sports center once it opens. We hope that, like Beit Hanina, this will be a perfect location for a second new sports center in east Jerusalem.