The Tisch Family Zoological Gardens in Jerusalem – also known as the Biblical Zoo – has been a leader in wildlife conservation since 1993. As one of the few multicultural sites in Israel, it has become a bridge between local communities, with over 100,000 youth visiting each year from all of Jerusalem's diverse communities. To expand the Zoo's educational program, the Jerusalem Foundation is supporting the creation of the Education Center for Environment and Wildlife Conservation, which will later be developed as a High School on the Zoo premises. This initiative will create tomorrow's leaders in the areas of nature conservation and the environment, by turning outstanding students from all backgrounds into role models for the Jerusalem of the future. In line with the Jerusalem Foundation vision for 2030, which focuses on future leadership as one of its three main priorities.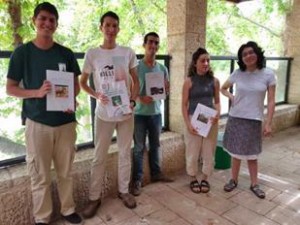 The High School will operate as part of the public school system, but its curriculum will also include zoology, biology, veterinary science, ecology, animal husbandry, sustainability, horticulture, and technical maintenance. Students will be required to work at the Zoo to gain practical experience, including exposure to in situ species breeding and reintroduction programs. The Center and High School will be open to young people from all over Israel who are interested in wildlife conservation, shaping a new generation of environmentally-aware Jerusalemites.
Impact: Today the Biblical Zoo and the Aquarium attract over 1 million visitors annually. The Education Center for Environment and Wildlife Conservation and High School will improve the educational experience of Israeli youth visiting the premises, boosting their understanding of wildlife conservation and environmental sustainability.
Partners: Jerusalem Municipality, Ministry of Education