For many years, we have stood together with many community organizations and agencies across Jerusalem to build a strong civil society network in the city. In immediate response to this widespread tragedy, with the help of friends in Israel and around the world, we have created an emergency fund to support this network's efforts to respond to the needs of those affected by the disastrous events: Jerusalem's most vulnerable residents who are even more at risk in this difficult time, Jerusalem families of the bereaved and the injured, essential workers in the city, and evacuees and war refugees currently residing here.
Emergency responses through Jerusalem Community Centers: Programing and emergency needs in ten community centers.
The Jerusalem Foundation continues its close partnership with community centers as existing innovative community resources with the infrastructure and ability to support local communities and identify vulnerable populations. With detailed plans to reach additional centers already in coming days, we have so far enabled emergency responses in the follow 14 Jerusalem community centers: Ganim, Pisgat Ze'ev, East Talpiot, Gonenim, Ramot Alon, Homat Shmu'el, Gilo, French Hill, Neve Ya'akov, Eshkolot, Beit Hakerem, Romema, Morasha and Yuvalim. These centers represent a mix of vulnerable and affluent communities, including ultra-Orthodox, new immigrants and other minority populations.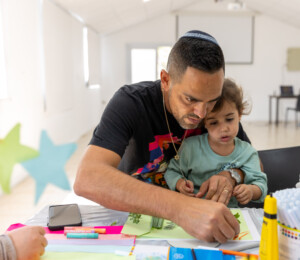 Jerusalem Foundation aid went towards programming and support for the most vulnerable populations within the communities: elderly, people with special needs, people with mental illness and new immigrants without family support.
Furthermore, various art, culture and respite activities were conducted in safe spaces, for children, youth, adults and the elderly, to help with rising stress levels. Each community center has committed to designate 30% of Jerusalem Foundation support for art and culture activities provided by local Jerusalem art groups and culture institutions. Thus, the Jerusalem Foundation has also worked towards the continued livelihood of the city's art and culture ecosystem, which has already taken a big hit during this terrible disaster.
Overall, the support has reached tens of thousands of Jerusalem residents and helped them through the struggles, uncertainties and anxiety of the first few weeks of the war.
Welfare, Health & Community Responses to Jerusalem Residents
Daycare & Respite Activities including art, for children of medical personnel and other essential workers.
In the first weeks of the operation, the school system was closed around the country, and even now when it is gradually re-opening, many of the regular after school frameworks and programs remain unavailable. In order to enable medical personnel and other essential workers to continue their vital work, the Jerusalem Foundation partnered with the Tarbut Movement and the Jerusalem Municipality to open daycare programming for young children, using art as a means to ease the stress and anxiety that are only natural in this situation and providing them with opportunities to engage with other children their age. Programming was conducted in schools and other centers across the city which have adequate safe rooms and shelters in case of missile attacks. Over the past few weeks of Operation 'Iron Swords', some 800 children of doctors, nurses, psychologists, essential municipality workers and the Israeli national Insurance Institute participated in these activities, enjoying games, crafts, art workshops and performances by local Jerusalem artists.
Culture Responses for City Residents and Evacuees.
The Train Theater: Cultural Respite in Neighborhoods with the ZAZA Municipal Art Truck
The ZAZA Municipal Art Truck is a mobile unit that travels across Jerusalem and provides the city's diverse residents with a rich array of art and culture events and activities. In these trying times, the truck was mobilized to provide leisure and respite to Jerusalem residents and guest evacuees. So far the truck has visited 5 neighborhoods; Gilo, Kiryat HaYovel, East Talpiot, Baka and Pisgat Ze'ev.
Food prep and distribution to Soldiers, Evacuees and Families in need
The Kulna organization and Keshet School in Jerusalem regularly operate a soup kitchen in the school's carpark, from which warm meals are distributed weekly to families in need and vulnerable elderly. Starting October 8, the school adapted its kitchen to respond to war-related needs: cooking warm, nutritious meals for soldiers called up for reserve duty, evacuee families now residing in Jerusalem, families of reserve duty soldiers and families in need whose hardships have exacerbated due to the war. Four days a week and especially before the weekend, the kitchen provides 400 meals per day, totaling approximately 5,000 meals since the war has started. It is operated by volunteering school pupils, including special education pupils and the school community, and by special groups of volunteers, such as a group of high school girls from Israel's southern town of Sderot which have been evacuated to Jerusalem and sought, even in their distress, to help others.
Supporting Evacuees from the Western Negev Desert near the Gaza Strip
Housing Evacuees at the Zippori Center Guest House
The Jerusalem Foundation partnered with the Zippori Center to house 163 evacuees from three small towns in the western Negev Desert. The families moved in on October 9, two days after the deadly attack in the south. On top of caring for their physical needs – well furnished rooms and 3 meals a day, the Zippori Center has been providing its guests respite and cultural activities, adapted for all ages, including forest survival and environment awareness activities, tours of the surrounding area, art performances and workshops by Jerusalem artists.
"The Jerusalem Foundation provided an immediate response to the city, from the beginning of the war, out of a desire to respond to the crisis quickly and efficiently." Says Shai Doron, president of the Jerusalem Foundation. "We are coordinating with the municipal systems and other entities in the city that are working during the emergency and the mobilization of resources continues all the time. What started small, with responding to initial needs, has been developing in recent weeks and we are changing our priorities so that they fit the burning needs of the city while constantly updating our donors. We wish for quiet and good days and in the meantime, we are doing everything we can to help."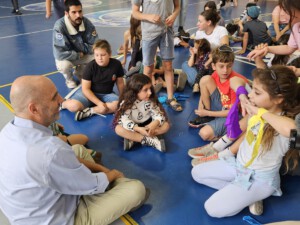 Photographer: Dana Bar Siman-Tov