Founded by the Jerusalem Foundation, the Mishkenot Sha'ananim Campus is an international multidisciplinary center of culture and dialogue at the cornerstone of modern Jerusalem. It is home to a range of world-class civil society and cultural institutions that play a vital role in the development of creative culture in the city, in line with the Jerusalem Foundation's vision for 2030. Mishkenot Sha'ananim exposes local writers, artists, scholars and audiences to international influences, while drawing on the unique inspiration of Jerusalem and Israel to influence global discourse and position them as world centers for the arts and intellectual exploration.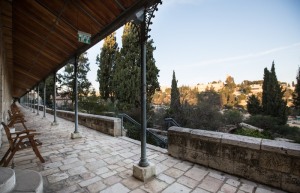 The campus, housed in a restored 19th century compound and commanding breathtaking views of the Old City, hosts world-class institutions that draw distinguished guests from around the world. The Maurice Dwek Residence Retreat and Guesthouse hosted and inspired the Dalai Lama, Paul Auster, Amos Oz, Marc Chagall, Jean-Paul Sartre, Simone de Beauvoir and many more. Other institutions include the Konrad Adenauer Conference Center, the Jerusalem Music Center, the Jerusalem Press Club, the Jerusalem Center for Ethics and the Dwek Gallery. The surrounding grounds form one of the most stunning green open spaces in Jerusalem and house several historical attractions, including the landmark Montefiore Windmill, ancient cisterns and a 1860s guardhouse. The Jerusalem Foundation seeks to ensure vital support for the Mishkenot Sha'ananim campus, institutions and programs to flourish well into the future and to meet the needs of Jerusalem's most distinguished 21st century guests.
Impact: The Mishkenot Sha'ananim campus hosts sites that are visited by thousands each year, contributing to a vibrant cultural scene in Jerusalem to the benefit of all of its citizens as well as international guests.