Established more than 40 years ago by the Jerusalem Foundation and the Hebrew University, the Jerusalem Institute for Policy Research (JIPR) has grown to become the leading institute in Israel for the study of Jerusalem. JIPR gathers data, researches, evaluates and educates policymakers and stakeholders on critical issues and trends facing Jerusalem. The institute's research covers every aspect of Jerusalem's development: urban planning, social and demographic issues, economic and environmental challenges and the impact of geopolitical conflicts. As a leading institution with a long term commitment to the city, JIPR represents the Jerusalem Foundation's dedication to future leadership as part of its vision for the next decade.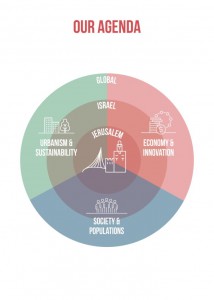 JIPR is known for its integrity and impartiality and is accepted by all parties. The research carried out clusters into three areas: urbanism and sustainability, economy and innovation and society and populations. The institute's Annual Statistical Yearbook is a treasure trove of information tracking trends in Jerusalem and JIPR has become the go-to research institute for the Israeli government and philanthropic organizations alike, providing insightful data that shapes policies and investment for Jerusalem. Funding is needed to carry out and expand research and support the publication of many materials.
Impact: The institute's work informs important decisions that shape the future of Jerusalem as a city and as a home to many different communities.
Website: www.jerusaleminstitute.org.il