A flagship program of the Jerusalem Foundation, Project Springboard aims to break the cycle of future poverty in Jerusalem's poorest neighborhoods. By taking a holistic approach to one neighborhood at a time, the Jerusalem Foundation ensures that the city's most disadvantaged youth are provided with opportunities to fulfill their potential, thus instilling hope for the future and preventing poverty. At the same time, adults are provided with tools for effective home budget management. With strategic partnerships with local community councils, neighborhood schools and public and private organizations, Project Springboard strengthens the social fabric and community support systems of Jerusalem. Thus, building communal strength for a modern and vibrant city in 2030, in line with the Jerusalem Foundation's vision for the next decade.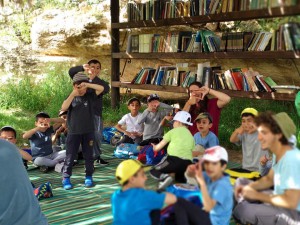 The Springboard program, which has been successfully running for 5 years in Kiryat Menachem and for 3 in the Muslim Quarter of the Old City, is now being implemented in Gilo, where a high proportion of residents come from low socio-economic families. The combination of home budget management support for families to avoid poverty and improved education and enrichment activities for children, change the neighborhood's atmosphere. In particular, Springboard identifies students with exceptional potential in music, sports and science and offers these children the programs necessary to fulfill their potential for outstanding achievement. Support is also offered to especially run down and struggling elementary schools to improve conditions and turn them into an attraction and a community anchor to the benefit of the entire neighborhood.
Impact: With its activities, the Springboard project revitalizes entire neighborhoods, one at the time. It is not only the residents of the neighborhood that benefit from it, but the city as a whole becoming increasingly more modern, inclusive and vibrant.
Partners: Jerusalem Education Authority, Ministry of Education, Local Community Councils