With the growing understanding that the precarious state of our environment cannot be ignored, the Jerusalem Foundation seeks to cultivate urban sustainability within the daily life of Jerusalem, to shape a modern and vibrant city with opportunities for all. To do so, an ambitious plan has been approved to build the new Canada Center for Urban Sustainability on the site of the Jerusalem Botanical Gardens. Today more than 100 organizations and activists work in Jerusalem to promote social justice and environmental sustainability, but with little interaction and limited scope for impact. The new center will provide a co-working space for these sustainability leaders to exchange ideas, maximize synergies and launch joint ventures. This will create a future leadership with a long term commitment to the city, as envisioned by the Jerusalem Foundation plan looking to 2030 and beyond.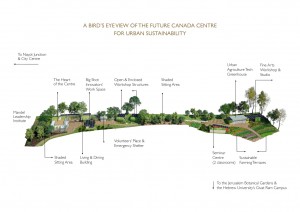 Developed in collaboration with farmers, artists, urban planners, agro-tech developers and educators, the centre will feature a space for urban innovation demonstrations, indoor and outdoor workspaces with sustainable farming terraces, an artist studio, a greenhouse, a volunteers centre and classrooms. The Canada Centre will be built from repurposed shipping containers and will utilize eco-friendly construction methods with an emphasis on reclaimed, natural and renewable materials. By promoting innovation, education and civic engagement, the centre will position Jerusalem as a leader of the green movement in Israel and the world.
The centre will host many activities: horticulture therapy for former prison inmates and Holocaust survivors, programs for people with autism and other special needs, workshops in recyclable materials and educational programs for children, youth and adults. The centre will serve people of all ages, abilities and backgrounds, reflecting Jerusalem's diverse communities.
Impact: The centre will impact Israeli society and the economy of the future in terms of energy, waste, water, clean-tech, agriculture and food. It will boost the quality of life and promote urban renewal in Jerusalem and beyond, by uniting citizens to ensure the environmental health and wellbeing of their city, which is also their own.
Partners: Jerusalem Municipality, Jerusalem Botanical Gardens, Leichtag Foundation, Jewish National Fund Australia, dozens of Israeli NGOs